Groundwork Services in Horsham, Crawley, Brighton, Burgess Hill, Haywards Heath, Worthing and all surrounding areas


Various domestic and commercial groundworks projects undertaken including drainage, site clearance, foundations, demolition, land engineering and landscaping.

In addition to grab hire and muck away, Gristle Ltd undertakes a range of groundworks and earthworks projects. With a team of experienced and licensed personnel, we take on jobs of every size for domestic and commercial clients in Sussex and Surrey, including agricultural and equestrian projects in Horsham, Crawley, Brighton, Burgess Hill, Haywards Heath, Worthing, Sussex, Surrey and all surrounding areas. From foundations and drainage solutions to car parks, driveways and bulk excavations we offer a wide variety of groundwork services to meet your needs. We consider all jobs and offer competitive prices, helping you achieve the most cost-effective solutions.
With our professional services, we help ensure your project stays on budget and schedule. We have a solid reputation for delivering timely, quality services and work hard to maintain the high standards our customers expect.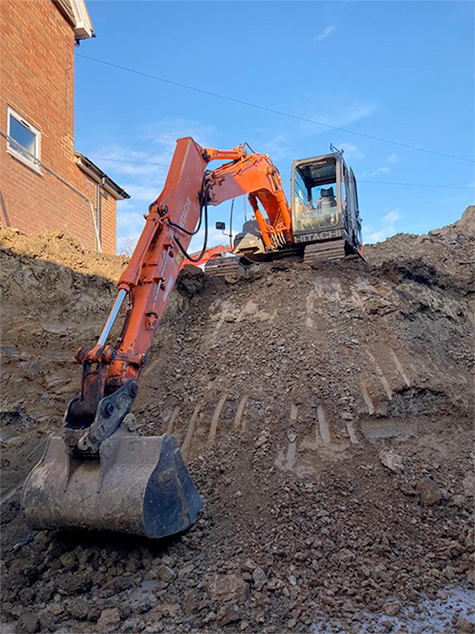 Site clearance
We can quickly and safely clear sites for development, ensuring the proper disposal of all waste materials. This includes the clearance of trees, vegetation, soil, concrete and demolition waste.
Bulk excavation
Gristle Ltd undertakes bulk excavation for larger construction projects in Horsham, Crawley, Surrey and Sussex. We can excavate and move any amount of soil or rock and remove spoil from site using grab hire vehicles.
Foundations and concrete bases
Our groundwork services include the construction of foundations for various projects including driveways, car parks and buildings. We also construct concrete bases for patios and small structures.
Demolition
We offer a complete demolition service using specialist machinery and approved methods, ensuring the safe removal of structures. We also remove all inert waste materials to a waste transfer station for sorting and recycling.
Land engineering
If you need land restoration, ground levelling, bund construction or excavation for a pond, lake or slurry lagoon, we have you covered with our land engineering services. Offering excavation, earth moving and all other necessary earthworks as well as grab hire and muck away services, we deliver maximum efficiency.
Drainage
Professional drainage solutions for all kinds of projects, including land and garden drainage works. We can solve various flooding and standing water issues as well as carry out excavations.
Sand schools and arenas
Gristle Ltd is proud to offer expert services to stable yards and other equestrian facilities in Horsham, Crawley and the surrounding areas. We can assist in the construction or renovation of sand schools and arenas, carrying out necessary earthworks and drainage solutions. We can also supply suitable aggregates for high-performance surfaces.
Hard and soft landscaping
Our groundwork services cover all manner of hard and soft landscaping projects, so don't hesitate to contact us to discuss your requirements. From garden redesigns and commercial landscaping to the construction of patios, driveways and car parks, we meet your needs.